About Covid-19
Please watch this message concerning COVID-19, the Coronavirus, from our President & Owner, Jill Carlson, about how Park Co., Realtors is being impacted, how we are operating safely for everyone's protection, and our thanks and gratitude to the first-responders during these times.
Park Co. Topics on COVID-19
Please click on the following links below in regards to the topics on COVID-19 (coronavirus) to learn more from Park Co., Realtors. Thank you!
Frequently Asked Questions (FAQ's) on COVID-19
World of Hearts Coloring Sheet
Park Co. Statement on COVID-19
The Power of Park…Here For You!
Like the rest of the world, the real estate industry is experiencing a period of uncertainty. While each day brings new challenges, the PARK CO., REALTORS team continues to vigorously do what we do best…serve our clients. During this critical time, we promise to keep you informed with up-to-date market knowledge and provide you with the guidance you need. PARK CO., REALTORS has been in business over 60 years, and we have weathered major floods, recessions, and everything in between. We have the proven experience to navigate difficult times, and we can assure you that our team is committed to providing top-notch service throughout the Fargo-Moorhead and Lakes region.
As always, our clients' safety and well-being is our top priority, and we have the tools in place to function virtually as needed. Buyers are able to view listings via virtual tours, attend virtual showings, and view photos and information through our PARK app. For those critical in-person interactions, we have strictly enforced safety measures for both buyers and sellers.
We realize this is an unsettling time for everyone. Please know that we are committed to doing our part to keep the economy going by supporting our buyers and sellers and ensuring that real estate transactions continue to move forward. We know that tough times do not last but tough companies do. We've successfully faced challenging times before and we will do so again this time around.
From all of us at PARK CO., REALTORS, we thank you for your ongoing support and partnership. Stay safe and stay healthy!
Thank you!
Park Co. FAQ's on COVID-19
We have been asked many questions on how Park Co., Realtors is operating during COVID-19. Below we have provided our Frequently Asked Questions (FAQ's) in infographic (image) and PDF file format. If you have a question that you do not see on the FAQ, please contact us!
FAQ - Infographic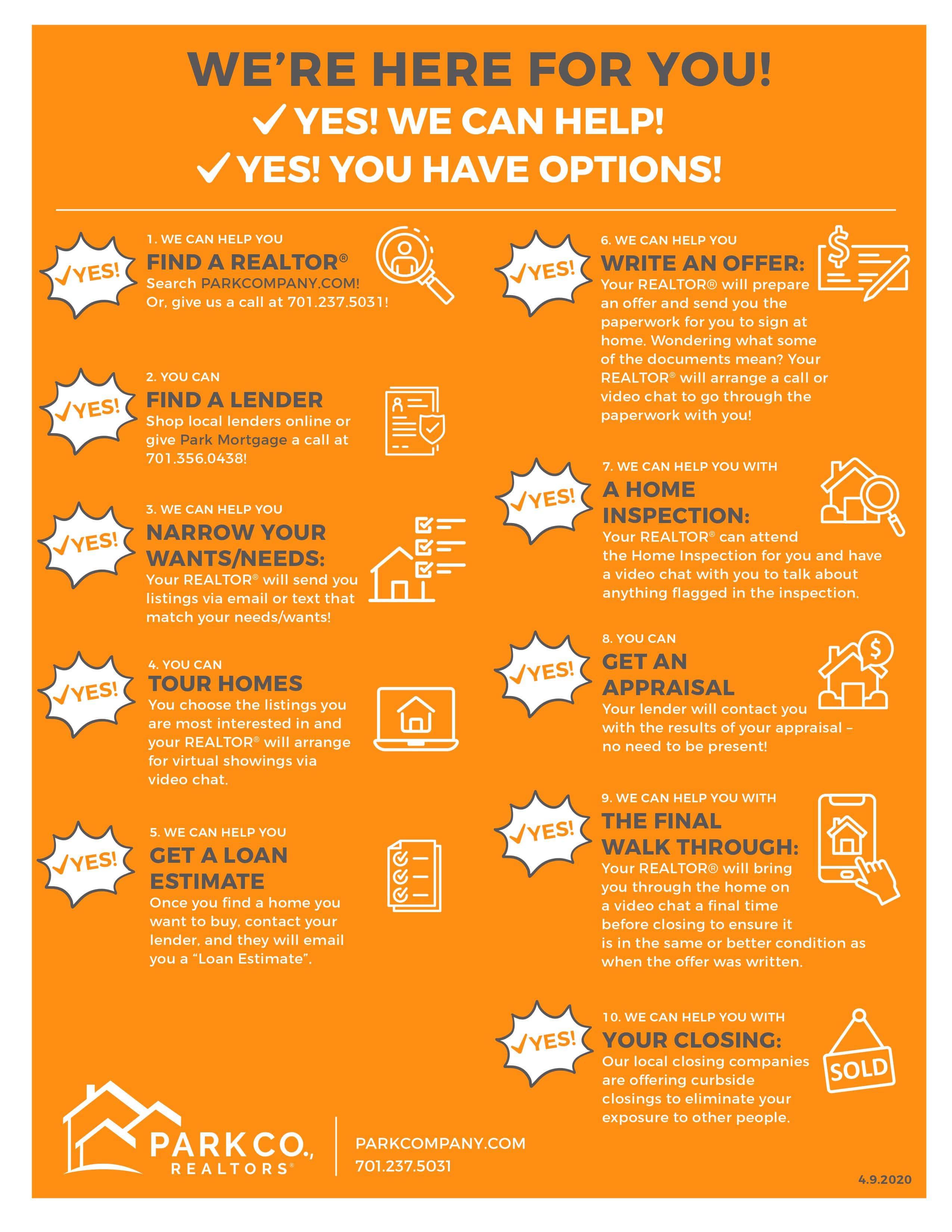 FAQ - PDF Format
You can view the FAQ's in our convenient PDF Format by clicking on the link below!
Park Co., Realtors: COVID-19 FAQ's (PDF)
Park Co. World of Hearts Coloring Sheet
During this time, Park Co., Realtors is proudly showing our support with " #aworldofhearts2020" a popular online effort to share love during a pandemic that was born right here in North Dakota!
Download our FREE World of Hearts Coloring Sheet to spread love and happiness during times of uncertainty with putting up hearts in your windows! Color in the house, cut along the dotted lines, and hang your art in your window!
Send a photo of your World of Hearts house hanging up in your home window to marketing@parkcompany.com and we will share it on our social media pages!
Click the link to download the the World of Hearts Color Sheet for all to enjoy and share!
Other COVID-19 Resources
CONSIDERATIONS FOR EMPLOYERS, EMPLOYEES



UNDERSTANDING ECONOMIC IMPACTS



KEEPING WORKPLACES SAFE AND HEALTHY
Testimonials
" Jamie was awesome!!! The house I sold was the first home I had ever owned and I had lived there for almost sixteen years so at times I had a hard time parting with the home. I met with Jamie in May or June 2019 and she gave me some suggestions on changes, when I got those all made we met in January of 2020 and signed the listing paperwork. The townhouse went on the MLS in the afternoon of February 17th and by the afternoon of the 20th I had two full price offers!!! I was shocked as my neighbors had been listed for a week or two before mine at the exact same price and is still for sale. The closing was scheduled for April 10th, it was 53 days from listing to closing! Plus with a pandemic going Jamie had things go smoothly! When I buy my next home I will be using Jamie and I am referring her to all my friends!!! "
- Alanna Fink
" Jamie was wonderful to work with both in selling our home and buying our new one. She helped us to do both safely and quickly during the quarantine. She answered all of our questions and shared her knowledge to ease any concerns that popped up for us throughout the process. We highly recommend Jamie for anyone looking to buy or sell their home. "
- Tiffany Olsen
" I cannot express enough gratitude for Jamie and Kelly during this whole process of selling our daycare! They went over and above their call of duty with this one! Unfortunately, the other party's side did not do much of anything the entire time of the sale process, so in order for things to happen, Jamie and Kelly had to do a lot of "over time" work to make this sale happen. They were patient with me and always had an ear or four to listen to our frustrations regarding the other party. During this entire time they remained professional and knew that in order for things to go ok, they needed to do extra work. They were incredibly knowledgeable and were able to answer any questions we had. They were punctual at getting paperwork done and sent to us in a timely fashion and made sure we always "dotted our i's and crossed our t's" to make sure we weren't missing something. I will forever be grateful for what Jamie and Kelly did for us! Thank you! "
- Amy Parker
" Jamie was incredibly thorough, professional and informative. She was readily available to answer questions throughout the entire process and was a calm voice in times of distress. I would absolutely recommend Jamie to anyone who asks for assistance in buying or selling a home. "
- Nathan Weber
" I previously worked with jamie through my employer so I was fortunate to see all sides she juggles from a realtor perspective. I referred her to two of our children who used her for their home purchases. She is the perfect mix of being professional, yet not pushy and very comfortable to tell your concerns and excitement too. She is the real deal and feel fortunate we have her as our realtor but also now as our friend. Park Co is lucky to have her. "
- Connie Klug
" Jamie was fabulous to work with! She responded promptly with phone calls and emails and always explained the real estate transaction processes thoroughly. I will recommend Jamie to anyone interested in buying or selling a home. My total experience was awesome! Thank you Jamie and Park Company for a job well done! ? "
- Laurie Brakke
" Jamie Swenson knows her business. She didn't miss a thing through the entire process. Always on top of things and kept us informed. We were 500 miles apart most of the time but we didn't feel uncomfortable not being here. "
- Melvin Samples
" We had an extended and frustrating house hunting experience due to set backs selling our house in SD and to disagreements about what we wanted in the house we were purchasing. Jamie was phenomenal at finding us houses to look at, digging for any information we asked for, and sticking with us through the process! She was patient and encouraging from start to finish! I would definitely recommend Park Co Realtors and would use them again! "
- Karissa O'Daniel
" Jamie S was excellent to work with! "
- Matt Arnold
" Jamie went up to bat for us, allowing my wife and i to continue focusing on our careers and packing for the move. "
- Zepherin Richter
" Our realtor Jamie was great. She helped us navigate the difficult journey of buying a home out of state. We didn't have a whole lot of time and distance was an issue, but Jamie was such a help and stayed in constant contact with us. She answered all of our questions and provided us with all the information we needed to find a home that was just right for us. "
- Scott and Kaye Hammond
Previous
Next